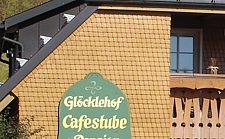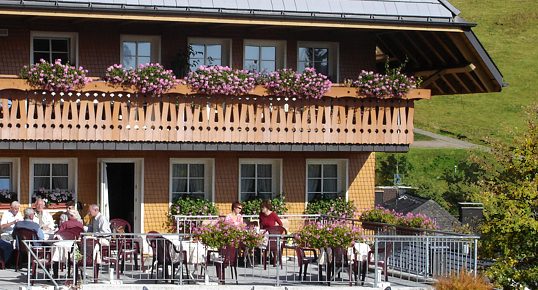 History of Glöcklehof Todtnauberg in Black Forest
From the farm and carpentry operation to the Pension Glöcklehof today

The building with the clock tower is family owned since 1841. The historic bell dates from the dissolved Abbey of St. Wilhelm, and was cast in 1736. It is dedicated to Saint Joseph and bears the inscription: "Pray and work". From the parish Todtnauberg it was acquired and built by carpenter Pius Schweitzer at the parish church. But the bell did not fit the existing bells. Schweitzer built in 1912 on his farm in the Rütte therefore a turret in which the prayer bell found your place.

Life on the farm was barren and they rented rooms in the postwar years to holiday guests. In 1967 the house was taken over by the granddaughter Erika and their husband-Paul Harenberg, a renowned chef. In 1980 the economy was demolished and there was a house guest that "Glöcklehof" was called. With the first phase of construction began to be a sign of the continued existence of the court.

After the death of her husband in 1994, Erika Harenberg led the operation. After long negotiations with the Heritage Office this year could be demolished the buildings of the old Black Forest house and built with the traditional shingle coat back. A very special piece of jewelry is the interior in much love Schwarzwald Stube. Before the demolition was dissolved out of the room, the old wooden beams and floorboards. These were restored by the carpenter and faithfully incorporated in the Black Forest Room again. In the room the family Harenberg will host not only their house guests. In the coffee shop is - a new service - homemade cakes offered. With wonderful views, the terrace invites you to linger.

In the basement there is a sauna with Biodampf. On the Black Forest house already stands the bell tower from a distance the eye. Now the bells from the Rütte sounds again over the valley.